The MV
is the fifth episode in season one of
Amazing Regular Time
.
Gumball and the gang are planning to make a music video for the battle.
They're planning to make a music video by group. But then, Microsoft Mike asked a favor from Gumball to do a different music video instead of rapping, which he forced Gumball to wear a dress.
After the contest, Microsoft Sam decided to pick the best music video, which Finn and Jake won!
Characters
Edit
Main Characters
Edit
Supporting Characters
Edit
Microsoft Sam
Microsoft Mike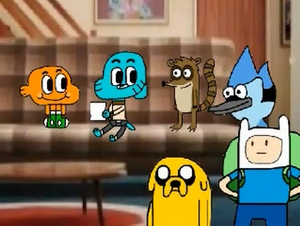 You can view the gallery here.
The scene where Gumball said "What?!" was made into a meme that has the caption: Y U NO STOP MAKING LIVE ACTION SHOWS ON CN?
Darwin says "Yo! Who's planning for a music video?" in a rap-like tone.