The Law
is the sixth episode in season one of
Amazing Regular Time
.
Gumball and the gang are trying to stop Harold Camping for making the Cybercrime Law.
Mordecai checked the internet but it was interrupted by the Cybercrime Law. And they need stop that law.
Sometime later, Harold is now a new law of Cybercrime, first was being a false prophet which he made some failed end of the world predictions. But then, Mordecai and Finn tried to stop them and save the internet.
Characters
Edit
Main Characters
Edit
Supporting Characters
Edit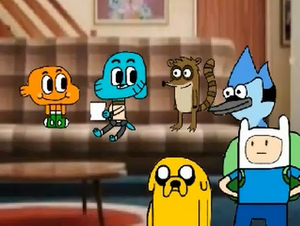 You can view the gallery here.
This episode has some scenes that are in Tagalog Language.
Ad blocker interference detected!
Wikia is a free-to-use site that makes money from advertising. We have a modified experience for viewers using ad blockers

Wikia is not accessible if you've made further modifications. Remove the custom ad blocker rule(s) and the page will load as expected.